Return to Headlines
Jack's Parcells named Rodel Exemplary Principal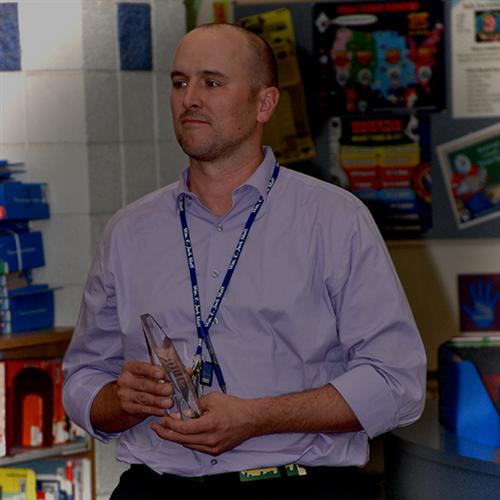 Denis Parcells in his sixth year as principal at William C. Jack school was recently named a Rodel Exemplary Principal. The announcement was made Wednesday by Maricopa County School Superintendent Steve Watson before the Jack staff.
Under his effective and dynamic leadership William C. Jack has seen a consistent rise in academic achievement. Most recently Jack students increased their rate of proficient and highly proficient by 35 percent in Math and 13 percent in English Language Arts on the AzMERIT exam. These gains were also seen among William C. Jack special education and English Language Learners, with the number of students being qualified as proficient of highly proficient increasing by 26 percent and 13 percent respectively in math, and 26 percent and 23 percent in English Language arts. GESD Superintendent Joe Quintana noted that Parcells is viewed as a developmentally responsive leader with the commitment to create strong professional learning communities of teachers and other employees that focus on all students' intellectual and social growth.
"This isn't a 'me' award," Parcells said to his staff. "This is an 'us' award. None of this happens without all of you."
A school, however, is much more than test scores. Since his arrival at William C. Jack Mr. Parcells has worked to assure that his school maintains a safe, healthy and intellectually stimulating learning environment where staff, students and community members feel respected, connected and engaged. When it comes to educating students, Parcells and his staff have developed a culture of collective responsibility. Families, as well as local businesses, universities and community all play a vital role in providing Jack students with a well-rounded education.
"Denis is an excellent leader who is passionate about ensuring all students are learning," Superintendent Quintana said. "His welcoming leadership style makes it easy for teachers, students, parents and community to feel a part of that most important mission."