Return to Headlines
Specialty schools to open at 6 GESD campuses starting in 2019-20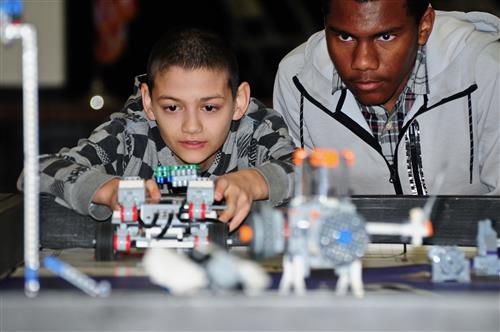 In an effort to provide innovative learning opportunities for all students, continue to increase achievement levels, and offer families greater educational choices, the Glendale Elementary School District will launch six new learning academies for the 2019-20 school year.
The Dual Language Immersion program, already successfully established for kindergarten students and housed at Horizon and William C. Jack, will expand to include first grade students next year. "We will continue to grow this program until these schools are Dual Language Immersion Schools and not just programs," said Assistant Superintendent for Educational Services Dr. Gerry Petersen-Incovaia. It will be joined by these other programs for the 2019-20 school year:
Career Pathway Academy, Landmark
This K-8 program will explores career pathways to high school Career and Technical Education (CTE) programs. A Kindergarten through sixth-grade program will explore career pathways within science and social studies. The seventh- and eighth- grade program will imbed in-school and out-of-school targeted career training through workforce partnerships. It will work similar to the current program established at Landmark.
"This academy will work like a Pre-CTE program for a pathway into CTE programs in Glendale Union High School District (GUHDS)," Dr. Petersen-Incovaia said. "We will align our new science and social studies standards and the Career and Technical Education 8 Modules to identify the overarching concepts that will be taught per grade level."
STEAM Academies, Burton and Coyote Ridge
This K-8 program will integrate STEAM (Science, Technology, Engineering, Arts, Mathematics) modules into science and social studies. The sixth-, seventh- and eighth-grade program will integrate STEAM electives, or exploratories, into the related arts; for example: coding, drafting, guitar, digital photography. Students also will sample after school academies that will focus on STEAM include, general robotics, Lego League robotics and coding, choir and dance.
"A STEAM Academy will focus on embedding a creative and design mindset throughout STEAM modules. We will align our new science and social studies standards and STEM modules to create overarching concepts at each grade level," said Dr. Petersen-Incorvaia. "Electives, or exploratories, will provide students access to courses that form a pathway for future high school studies."
Innovative Learning Academies, Melvin E. Sine and Challenger
Both schools are Verizon Digital Promise Grant Recipients. Through this program every child in the fourth- through eighth-grades and every certified staff member receives a tablet including network access. Innovative Technology will be integrated into academics across the 4-8-grade spectrum, and a Makerspace will be available at each school.
"More about this program will be shared once we receive our Verizon training," said Dr. Petersen-Incovaia.
Accelerated Academy, Bicentennial North
In this seventh-, eighth-grade program, curriculum will be aligned with grade-level standards and GUHSD Advanced Placement (AP) coursework. The goal is to create a pathway to AP classes in GUHSD. Instruction will include the AP Springboard curriculum in English Language Arts, GUHSD Algebra and GUHSD Geometry curriculum.
"In the first year of the Accelerated Academy, North will provide a seventh- and eighth-grade experience for accelerated courses for identified students," Dr. Petersen-Incovaia said. "During the first year, a sixth-grade preparation pathway will allow for students to try an accelerated curriculum. In subsequent years, the program will be provided for fourth- through eighth-grade students."