Return to Headlines
Amy Kliewer from Coyote Ridge honored as GESD Teacher of the Year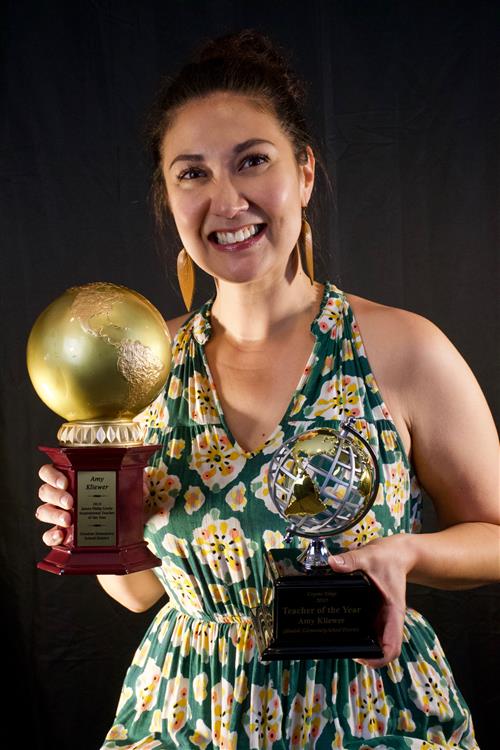 Amy Kliewer
This Teacher of the Year story starts the way so many stories have started: Amy Kliewer — this year's winner of the James Philip Lively Inspirational Teacher of the Year Award — should have listened to her mother.
As an undeclared major at Eastern Washington University, Kliewer her mother had hoped she would major in education. Instead, she earned a journalism degree and spent several years in event planning, advertising and public relations.
When the recession of 2008 hit Kliewer found herself looking for a new job in a field that no longer interested her. A nonprofit organization steered her to the small city of Jaen, Spain, where she spent two years teaching English . . . and found a new career. Kliewer is now in her fourth year of teaching fifth graders at Coyote Ridge.
In addition to her teaching duties, Kliewer has served as her school's first-year induction coach, and is a member of the Coyote Ridge leadership and guiding coalition teams.
"While my mother loves to remind me that she was right all those years ago, I am grateful for the sequence in which my life rolled out," Kliewer said. "One thing I am able to contribute to my students is my wide breadth of life experiences
"I believe I am an outstanding teacher because the classroom environment and community I create within my room, as well as the personal relationships I build with my students," she added. "In the front of my class you see a wall of 'family' photos because I want my students to feel like this room, and the students in it, are a second family. I believe I am a great teacher because I open my heart to my students."
We're betting her mom is pretty proud. We certainly are
Matt O. Hanhila Award
Donna Sanchez, a first-grade ELD teacher from Desert Spirit, was named as the winner of the Matt O. Hanhila Inspirational Educator Award.
The award is presented every year to a Glendale teacher by the Glendale Rotary Club.
Sanchez is in her 12th year of teaching. For the last 10 years she has taught first-grade English Language Development (ELD) at Desert Spirit School. A graduate of Arizona State University, she has spent her entire teaching career in the Glendale Elementary School District. She has served as a mentor for student from both ASU and Grand Canyon University. She became a teacher in order to impact others in a positive way. Her mother came to the United States when she was five and spoke no English. Growing up and hearing about her mother's struggle in school, Sanchez decided she wanted to help people like her mother, and specialized her degree with an emphasis on English as a Second Language. "I did not only want to be a teacher," she said, "but I wanted to teach those ESL children."
"Teaching is both a privilege and huge responsibility. My two core beliefs are that all students are capable of learning and all students learn differently," Sanchez said. "Those beliefs toss the ball of responsibility squarely into my hands as a teacher. It is my job to find a way to spark each student's learning.
Excellence In Administration Awards
Andrea Arellano, principal at Discovery School, and Director of Food and Nutrition Shannon Gleave were honored with the GESD Excellence in Administration Award.
Arellano, now in her second year as principal, was nominated by a variety of Discovery staff, who noted her contributions to the school's climate and culture, and for her inspirational style of leadership.
"She motivates her staff by showing her passion for having a great school and positive culture," said sixth-grade teacher Melisa Preston. "She has a clear vision of what she wants for Discovery and makes sure everyone knows what that vision is."
"The staff at Discovery School regularly seek out Andrea, sharing celebrations, stating concerns, and requesting her advice," Achievement Advisors Norma Enricco, Sheri Kegley and Lindsay Schaff said in their nomination. "Her response is always warm, kind and strong. Her ability to lead and mediate difficult conversations is unparalleled, and she is trusted to be honest and fair."
"Ms. Arellano works non-stop to ensure our campus is a place where students, families, community members and staff are excited to be learning," the Discovery Leadership Team added in its nomination. "Ms. Arellano is truly the definition of what it means to be a positive leader and a compassionate person."
Gleave, now in her sixth year of running the District's impressive food and nutrition program, was nominated for her dedication to, and meeting the needs of, GESD's diverse student body.
"She has always held Glendale's students' needs at the forefront of all her decisions, ensuring as many students as possible have access to healthy and well-balanced meals in order to achieve their academic success," said Operations Specialist Regina Logan.
It is because of Gleave that 17 of GESD's 17 schools are part of the Community Eligibility Provision (CEP) program. CEP allows all students the opportunity to eat breakfast and lunch at no costs.
In addition to her GESD duties, Gleave has been an active member of the Arizona School Nutrition Association, and was recently elected Director at Large to the National School Nutrition Association.
"This type of dedication embraces the District's mission of ensuring all students achieve academic success and the goal of increasing student achievement," Logan said.
Support Staff of the Year
Challenger Special Education Resource Educational Assistant Shane Drouse and Nick Magann, a data and software architect in the GESD Information Technology department were honored as GESD's Support Staff of the year.
Drouse has been with the District for two years, and in that time he has made his mark.
"He aspires to create joy to learn and be a visible mentor to new classified staff. Shane encourages, inspires and instills a genuine interest in being a lifelong learner, creating a motivation that instills intrinsic motivation versus intrinsic rewards for learning new things such as reading, writing and math," said teacher Nichole Romley. "Shane is seriously invested in the vision and mission of the Glendale Elementary School District."
Magann is in his fourth year with GESD, and in that time he has gone well beyond the norm to shown his dedication to improving student learning.
"Nick has an in-depth understanding and experience in the design, management, support and analysis of data tools that are greatly depended on for effective instruction, student achievement and operational support for the District," said IT Director Tom Clark. "Nick's enthusiasm is contagious and goes well beyond the effective use of technology and data. I believe Nick is truly 'All In for All Kids'."
"Nick is able to listen to what I need, observe what I'm trying to do with data (in my very inefficient way), and then create user-friendly tools that look highly professional and save me time every single week," said Coordinator for Student Services Jody Gallimore. "It is magic to me, but for Nick, it is just what he does. We are so fortunate to have Nick as part of the GESD team!"