Return to Headlines
Kinder registration begins March 14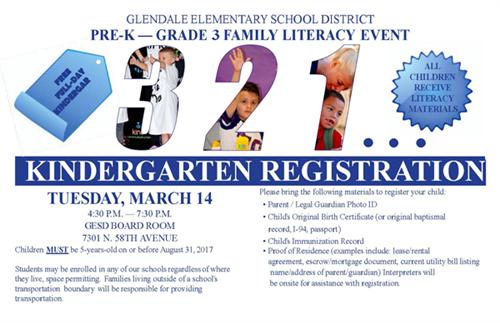 Kindergarten registration for the Glendale Elementary School District will kick off on March 14 at a literacy event at the District Office, 7301 N. 58th Ave. All children will receive literacy materials during the event, which will run from 4:30 p.m until 7:30 p.m. Interpreters will be on site to assist with registration.
To register, parents or guardians will need to bring:
Parent/legal guardian photo ID;
Child's original birth certificate (or original baptismal record, I-94, passport);
Child's immunization record;
Proof of residence (lease/rental agreement, escrow/mortgage document, current utility bill listing the name and address of the parent/guardian
Students can enroll in any GESD school regardless of where they live, space permitting. Families who chose a school outside their attendance zone will be responsible for transportation.