Return to Headlines
GESD will honor 94 students for perfect scores on AzMerit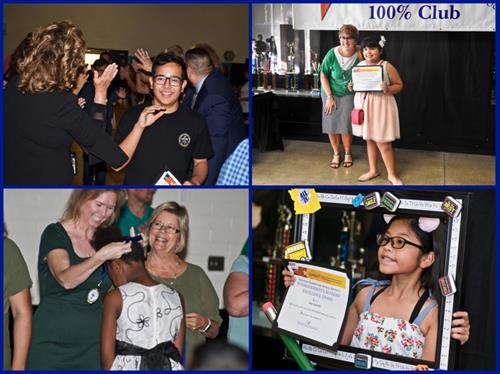 The Glendale Elementary School District will honor 94 students who earned perfect scores in all or part of last spring's AzMerit state assessment.
The students will be honored by their families, schools and District during a reception and special ceremony prior to the Sept. 13 Governing Board meeting. Because of this special event, the Sept. 13 Governing Board meeting will take place in the gym at Landmark School, 5730 W. Myrtle Ave. The reception will begin at 5 p.m., followed by the Governing Board meeting at 6 p.m.
The District will honor students who received a perfect score on either the language arts or math portion of the assessment, or a perfect score on both.
Four students — American's Wesley Flores, Bicentennial North's Zaid Del Rio Enriquez, Burton's Draigan Morris and Coyote Ridge's Leonardo Rodriguez — earned perfect scores on both the English Language Arts and Mathematics portion of the assessment. Additionally, five students earned perfect scores on two mathematics assessments. They are: American's Alicia Flores (mathematics and algebra); Coyote Ridge's Alberto Mora Trinidad (mathematics and algebra); Mensendick's Jailynn De La Rocha Rodallegas (mathematics and geometry) and Javsel Rodriguez (mathematics and geometry); and Sunset Vista's Carlos Ayala Flores (mathematics and algebra).
In all, five students from Bicentennial North, three from Bicentennial South, five from Challenger, six from Coyote Ridge, eight from Desert Garden, nine from Desert Spirit, three from Discovery, nine from Don Mensendick, four from Glendale American, four from Glendale Landmark, ten from Glenn F. Burton, five from Harold W. Smith, eight from Horizon, one from Isaac Imes, one from Melvin E. Sine, eleven from Sunset Vista, and two from William C. Jack will be honored.
"Earning a perfect score on any assessment is difficult, but to do so on a statewide assessment can be difficult," said Superintendent Cindy Segotta-Jones. "We are extremely proud of all of our students, and of the work of their teachers, staff and families that helped make their achievement possible."
You can watch a video of the event here.