Return to Headlines
Challenger 6th grader selected as Student Success Story by the Arizona Department of Education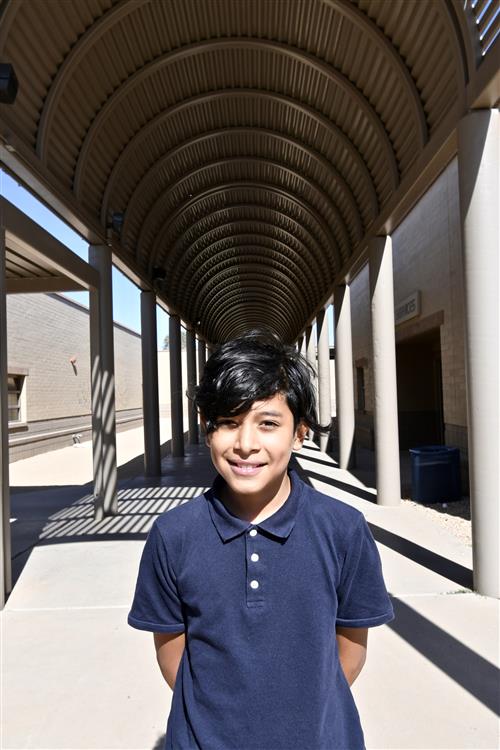 Angel Benavidez Amaral, a sixth grader from Challenger, was one of four English Language Learners (ELL), selected by the Arizona Department of Education as a Student Success Story.
Amaral came to the United States from Mexico and to Challenger at the end of 4th grade two years ago. Speaking only Spanish. At the end of his first year he still tested as monolingual.
"In fifth grade, he was in my ELD class," said teacher Yolanda Camacho. "He was such a hard working student and was always ready to learn. He was quiet but always paying attention to the lesson. Angel was in one of my lower reading groups, however, because of his dedication to his learning, he began to grow quicker than his peers."
Described as a "shy student," Amaral was not afraid to ask questions when he did not understand a concept, and he impressed his teachers because he excelled in mathematics, but also in his reading comprehension. In his class teachers regularly measured his reading progress, and were expected to read for 20 minutes each night. While the class expectation was to have monthly growth of 25 points, Amaral would grow at 100 points or more.
His teachers also were pleased with his behavior.
"Angel is such a kind and respectful kid.," Camacho said. "I never heard any complaints or negative comments about him. On the contrary, he was such a great friend and classmate and was well respected by all his peers.
"When I found out that he passed the AZELLA test, I was ecstatic, but not surprised" Camacho continued. "I knew he would be one of the students who would pass. Passing the AZELLA test after one year in the program, is such a great accomplishment and a rare occurrence. Not only did he pass the AZELLA test, which tested his English language skills, but also in AzMerit; being Proficient in Math and partially proficient in English Language Arts; outperforming many of his general education peers. I credit Angel's success to his love for learning and to his mother's constant encouragement, love, and support."
Amaral's goal in life is to attend college to become an engineer because he wants to provide a better life for he and his mother.