Teacher of the Year, Administrative Excellence and Support Staff of the Year awards announced
Posted by Jim Cummings on 5/19/2020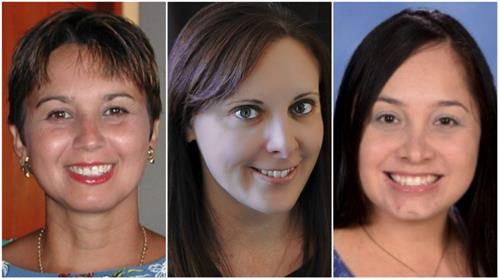 From Left: Jeanette Marques-DeJovine, Teacher of the Year; JoStrickler,
Administrative Excellence; Laura Arita, Support Staff of the Year
In online ceremonies broadcast on the GESD YouTube Channel, the 2020 Teacher of the Year, Administrative Excellence, Support Staff of the Year and Everyday Heros awards were announced.
Jeanette Marquez-DeJovine, an ELD kindergarten teacher from Issac Imes, is the 2020 Glendale Elementary School District Teacher of the year

Marquez-DeJovine chose to go into teaching 14 years ago because she wanted to give kids what they needed and she believed she could do that. She truly and passionately believes in others. To her core, she cares about families and students. Her goal is to help children reach their highest potential every day by focusing on their skills.
"I see myself in all of my children," she said.
Her outreach and community involvement is all about Glendale. Marquez-DeJovine comes from a family of educators, and truly embodies the servant leadership idea that begins with the natural feeling that one wants to serve, to serve others first. This is evident in all that she does within school, helping the school outside of her work hours and in the community. Marquez-DeJovine makes the conscience choice to inspire others, and lead through example in everything she does for others to succeed and become the best they can be. She truly is here to serve Glendale students and families.In addition to Imes Marquez-DeJovine has worked at Discovery and Landmark.
Jo Strickler, assistant principal at Isaac Imes, was named the winner of the 2020 GESD Excellence In Administration Award.
"if you come on campus, you will probably see her running around checking on students and staff," said Imes Principal Santina Carrillo. "If there is a job to be done, Jo is the person to get it done. But there is so much more to her and her leadership than just work: it's about the relationships and connections that she makes."
"Jo genuinely cares about all students, families and staff," said an Imes staff member through her nomination. "She is committed to ensuring that all students are given the support they need to be successful."
Harold W. Smith School Secretary Laura Arita was selected as GESD's 2020 Support Staff Employee of the Year.
"Ms. Arita is truly a gift to our school," said Smith Principal Melissa Marze. "She is the first face that all who enter our school encounter, and she consistently welcomes everyone with a smile, and puts customer service at the forefront of all of her exchanges."
Marze went on to say that Arita's professionalism is unparalleled, and that she meticulously completed her tasks.