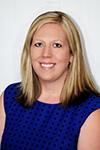 Dr. Amy Troutt comes to Glendale American after three years as assistant principal in the Deer Valley Unified School District. Two years ago she completed her doctorate degree through Northern Arizona University in educational leadership, with a superintendency emphasis. She has a great passion for new teachers and professional learning communities and wrote her dissertation on the mentioned topics.

Prior to her time in Anthem as assistant principal, she worked for the Cartwright School District for eight years. Three of those years were spent mentoring first year teachers and facilitating professional development district-wide. While mentoring she completed her Master's degree, also from Northern Arizona University with an educational leadership focus.

Dr. Troutt started her career teaching third grade English Language Learners and spent five years in the classroom. Dr. Troutt was recruited out of North Dakota, graduating from the University of North Dakota with a double major in early childhood and elementary education.

In her personal life, Dr. Troutt spends her time with her 3 year old boy and her husband. They recently moved to the Glendale area and are loving the community. She anticipates an amazing year and she is so proud to serve Glendale American.